Luxurious and vibrant refurbishment at Heidi Kjeldsen Ltd Fine Jewellers
Luxurious and vibrant refurbishment at Heidi Kjeldsen Ltd Fine Jewellers
By Heidi Kjeldsen - 23rd September 2015
Towards the end of 2014 I decided that we absolutely needed to refresh the brand 'Heidi Kjeldsen Fine Jewellery'. With a lot of hard work and determination we have achieved a luxurious, fresh and vibrant refurbishment and my vision has become a reality. We closed the shop in Mill Street for a week at the end of August which has allowed for the updating of the flagship location for the benefit of my customers.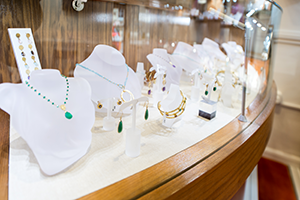 Firstly, as many of you may recall, we struggled with low ceilings and black painted beams, together with spot lights which cast shadows which meant I often suggested that customers might prefer to inspect an item of jewellery outside the shop in natural daylight! The beams have therefore been repainted in bright white, with true daylight lighting panels installed which cast no shadows at all and allow the natural, breath-taking beauty of my gemstones and pearls to leap out as never before.
After much deliberation, I introduced a new magnificently vibrant colour scheme of orange and purple to my shop. This brave decision has really worked; the orange is fresh, bright and invigorating, with the purple rich, regal and luxurious. It was only after I had made the decision to use these colours that I read that they are the 'in' colours for this season!
The design of the refurbishment complimented my own design ethos of classical but with a modern twist, to stand the test of time and be not just for a fleeting moment. My jewellery display cabinets were hand crafted in Cherry and Burr Walnut by Ian and Debbie of I.W.M Designs, and they are gorgeous. They have been constructed by hand, with an attention to detail that is simply wonderful. I.W.M Designs took my vision of the interior of the shop and brought it to reality; a dream come true, so a huge appreciation for them from us. Each jewellery display cabinet sets a miniature magical scene of its very own: a Collection of Tahitian Pearls; the new Astrid Collection; increasingly rare Tanzanites; Royal Blue Ceylon Sapphires; glorious Rubies; exquisite Emeralds; sparkling Diamonds – to name just a few of the beautiful collections on show. This has been such a successful transformation, we now have an environment that is fresh and invigorating which is inspiring.
I would love you to visit us and see the newly revamped showroom, as well as the latest designs that I am creating. Perhaps you might consider having something created especially for you – a timeless piece of highly desirable jewellery. Watch out for our new exciting range of jewellery packaging which will become apparent in the weeks to come.
I look forward to seeing you at Heidi Kjeldsen.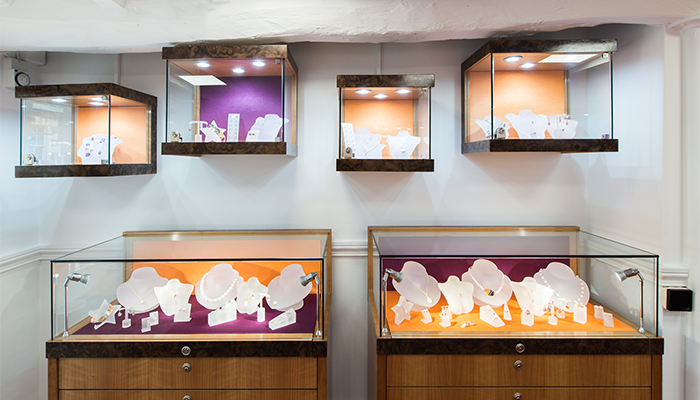 Personalised jewellery
Your Style
Recent Blogs
Can pearl Necklaces get wet? Ideally not. Pearls are porous and are made up of concentric layers of Nacre and Conchiolin, an organic compound similar to...