Craftsmanship fit for a King!
Craftsmanship fit for a King!
By Heidi Kjeldsen - 22nd May 2015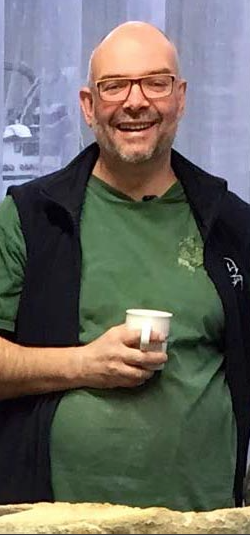 I have always believed that there is a magical air to working with rocks and gemstones. Most often gemstones are unostentatious in their raw form but with the potential to become wonderful works of art, whilst often they are already spectacular in their unworked state.
I have been interested in uncovering gemstone treasures since my childhood while living in Africa near to a mine which was not far from our garden, where I would scour the surface looking for anything that sparkled in the sunshine. As a child with my pockets jammed full of rose quartz my love affair with gemstones, precious rocks and pearls began.
My work has always involved attention to detail and demands the most minute of operations when creating pieces of jewellery, but I met an amazing man in recent years who exercises the same exacting standards with his work but on a much, much larger scale! I first met James Elliott several years ago when I discovered he was a fellow Geologist with his own Stonemasonry business, subsequently he asked me to make his wife's Engagement and Wedding rings. James has plied his craft for Chatsworth House, The National Trust and other exacting clients utilising unusual Marbles, Limestone, and Granites including the dazzling Labradorite from which he fabricated my kitchen worktops. We share the same fascination for rocks and gemstones and often end up chatting for hours. James introduced me to the concept of using CAD (Computer Aided Design) to help me plan my more abstract pieces of jewellery; his advice and help has proved invaluable and has enabled me to delight clients with complex and beautifully bespoke jewellery time and again.
Little did I know at that stage that James' skills were to be commissioned in one of the most famous pieces of craftsmanship to catch media attention in recent years – right here in Rutland. I have had the privilege to see his creation of Richard III's tomb first hand from the inception with CAD drawings, to the 3D models he used to facilitate the exact positioning and to gauge the stresses and strains the rocks would endure as they were moved into place. I also examined the rocks used for the tomb while they were in his workshop in Market Overton, and they were pretty impressive to say the least!
It has struck me that James and his wife Stella are great examples of some of life's genuinely good people. James has encouraged me along my own creative journey enormously, and instilled in me an ability to think laterally and to see the rocks that I admire brought to life. His attention to detail is fantastic, and in spite of being so busy he has always found the time to chat and to inspire me…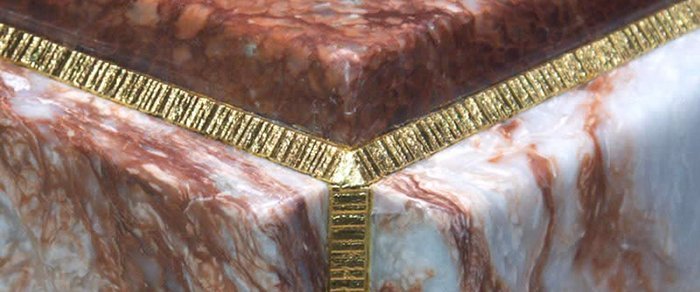 An example of some of James' bespoke detailing – each striation seen here is an individual stone.
When I asked how I could return the favour he simply asked me to show people the following link to his website http://www.jameselliott.co.uk/ where a film gives an interesting insight into the many processes and techniques which were required to produce this Royal monument and final resting place of King Richard III. I urge anyone who has not yet done so to spend a little time viewing this craftsman's work.
You are welcome to visit to see some of my latest CAD designed jewellery pieces, or if you would like to discuss a specific requirement you have for a piece of jewellery, whether a fresh new creation or a redesign of an existing piece, I look forward to meeting you in my Oakham shop in Mill Street.
Personalised jewellery
Your Style
Recent Blogs
Can pearl Necklaces get wet? Ideally not. Pearls are porous and are made up of concentric layers of Nacre and Conchiolin, an organic compound similar to...