Bloom Collection gemstone jewellery: an explosion of summer colour
Bloom Collection gemstone jewellery: an explosion of summer colour
By Heidi Kjeldsen - 15th July 2021
Head-turning swathes of flowering blue asters, red dahlias and violet phlox send my thoughts this month to the vibrant gemstones of my Bloom Collection, and to my centrepieces of Sapphire, Tanzanite, Emerald and Ruby jewellery – all of which add luxurious colour, prestige and energy to your personal style.
Bloom's stunning array of gemstone jewellery echoes the vibrancy of late summer flowers, as well as the warm aquamarine seas and deep azure skies of hideaway islands far from home. With future travels in mind, select pieces set with light, bright gemstones – such as Blue Topaz, Green Sapphire or Pink Tourmaline – to wear with cool linen garments for a breezy romantic look. Or more formally, pair the intense blue of my Sapphire Pendant necklaces or Sapphire Earrings with your wedding gown and sun-kissed skin, as you celebrate that long-awaited destination wedding.
Vibrant gemstone jewellery creates statement style in all settings, right from the intensely formal to the most chic and discreet. Luxurious Emerald or Ruby jewellery, worn with elegant neutral clothing or classic black, offers a splash of bold colour that oozes confidence – perfect for society's most glamorous, prestigious engagements. Reach for gemstones if you wish to focus attention on your neckline or wrist and consider adorning manicured hands holding champagne flutes with my bright violet Tanzanite rings, and swept-up hair, sets the perfect stage for my Rose Quartz drop earrings.
I also adore setting delicately-toned stones together to create my joyous Multi-gemstone bracelets and Bubble Earrings. Each of these Multi-gemstone designs will come to occupy a special place within your jewellery collection, showcasing the graceful beauty of Amethyst, Citrine, Pink Tourmaline, Blue Topaz, Smokey Quartz and sparkling Tsavorite gemstones.
To make a contemporary statement, consider my intensely elegant Ceylon Sapphire and Radiant Diamond ring, in white gold. Wonderful, thanks to the characteristic lighter and brighter character of these particular gemstones.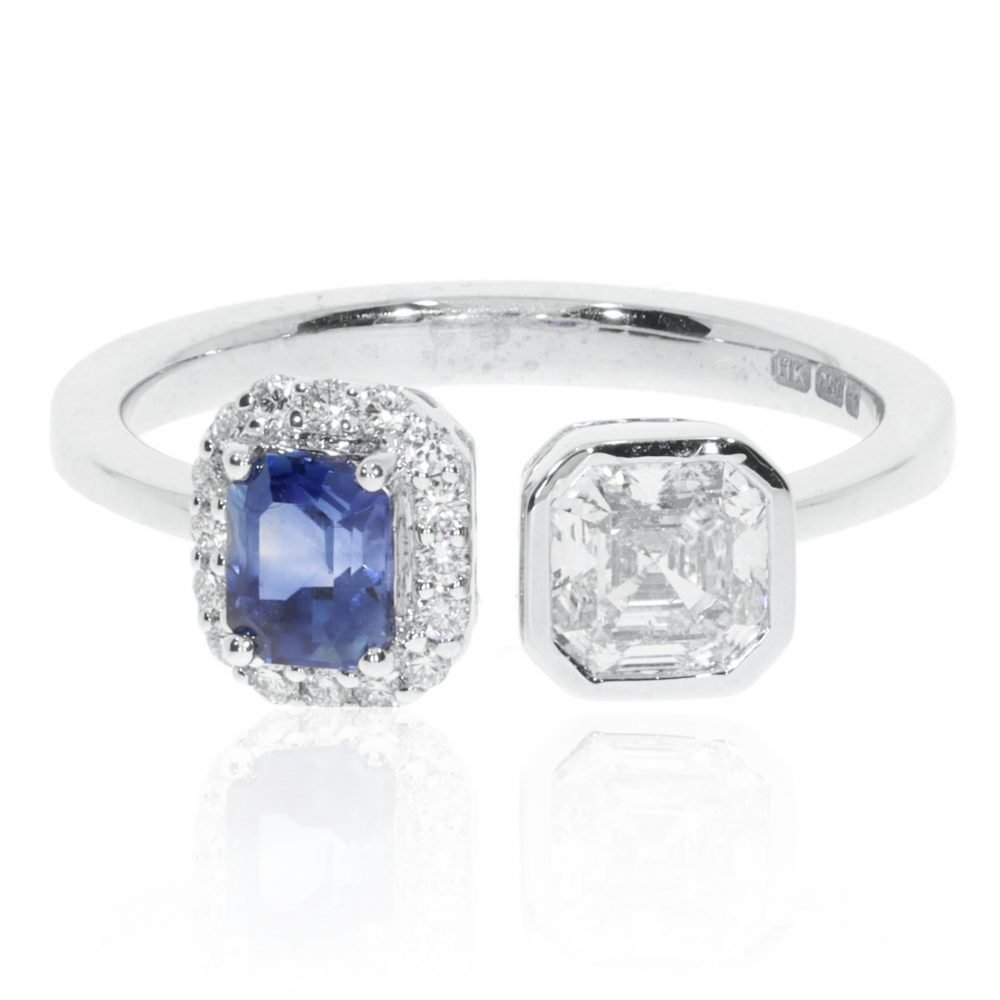 My cushion-cut natural Sapphire and Diamond ring showcases exceptionally breathtaking colour and clarity.
Uplifting Pink Tourmaline crafted with Diamonds makes a sensational summer gift, marking sunnier moments before your wardrobe transitions into a mellow autumnal colour palette.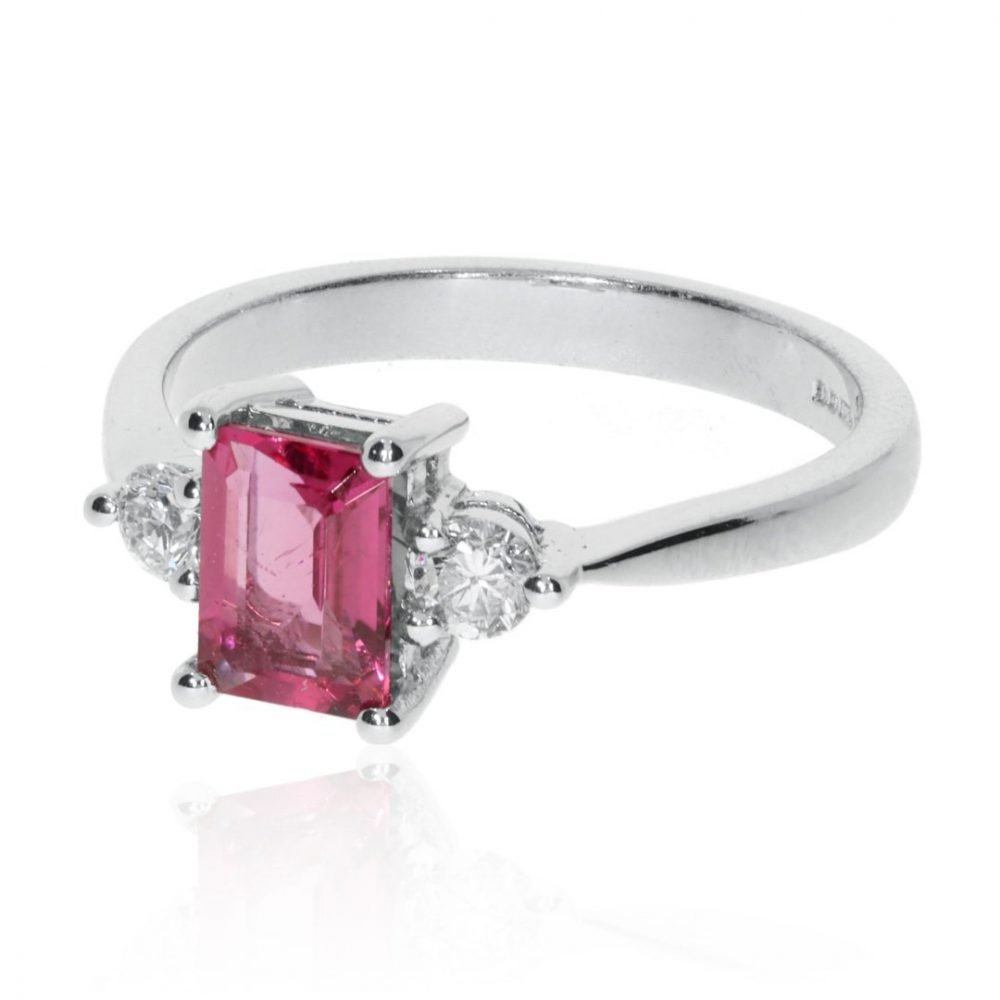 Deep-red Ruby and Diamond pieces (shown below) excite thoughts of dressing for smart Christmas events, and prompt fantasies of giving (or receiving) the gift of Ruby rings. Rubies are certainly exquisite when worn during the winter, glistening in the candlelight, yet they also embody this colourful phase of explosive late-summer life. Like the glory of a late-summer sunset, dramatic Ruby jewellery injects fiery red drama into every outfit. Precious Ruby gemstones range in colour from vibrant blood-reds into purple- and pink-reds – spanning a spectrum of tones created by varying levels of the element chromium. Believe me, there's a Ruby hue out there that's perfect for everyone.
Astonishing Emerald and Diamond drop earrings crown this display of my most refined gemstone pieces. Vivacious and rarer than Diamonds, the sheer brilliance and transparency of these Emeralds is extraordinary.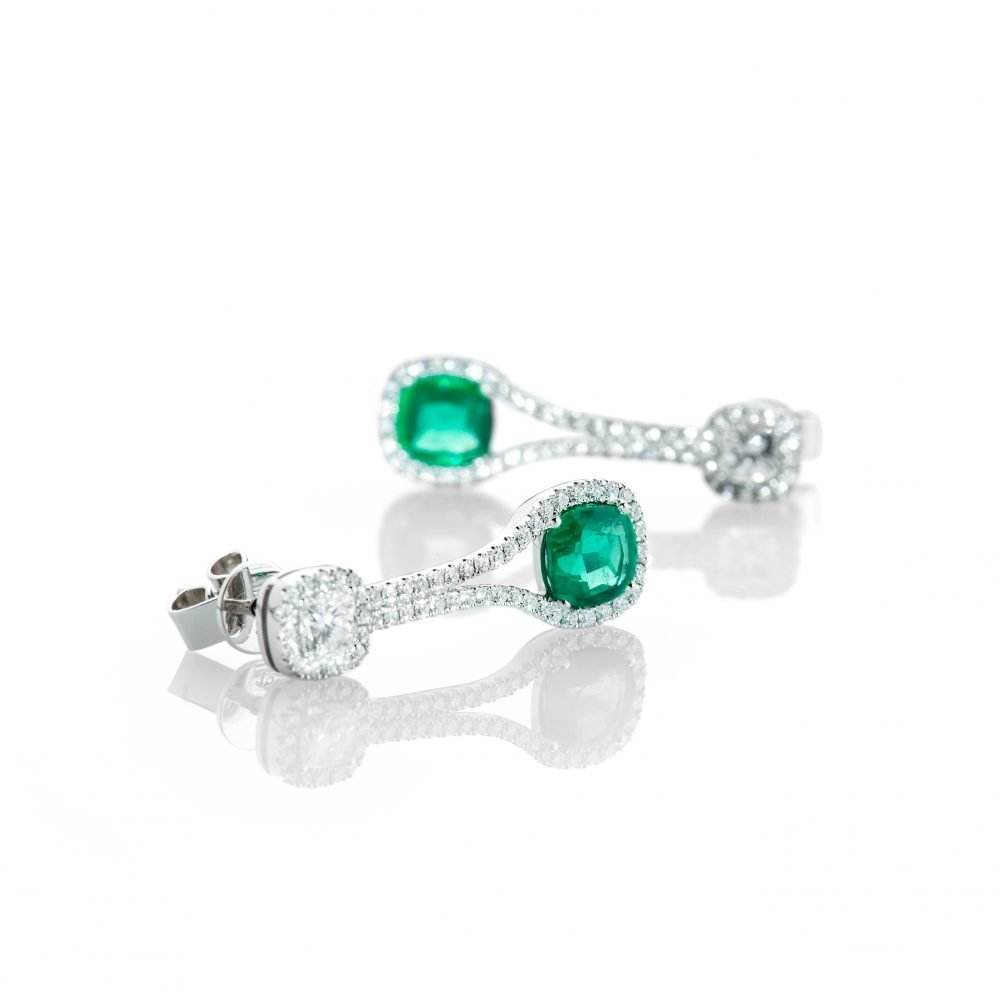 As fascinating as they are precious and unique, the world's finest gemstones deserve exceptional designs, which I have encompassed in my Bloom Collection. If your perfect gemstone piece does not appear online, or you are interested in commissioning a bespoke gemstone design, please arrange an appointment at my Mill Street showroom where we can discuss your vision in comfort.
Recent Blogs
Can pearl Necklaces get wet? Ideally not. Pearls are porous and are made up of concentric layers of Nacre and Conchiolin, an organic compound similar to...