Bespoke In-house design service at Heidi Kjeldsen
Bespoke In-house design service at Heidi Kjeldsen
By Heidi Kjeldsen - 20th March 2015
For my March blog I would like to share with you information about my exciting in house service: CAD (Computer Aided Design), through which I can create almost any item of jewellery – rings, bracelets, pendants, cufflinks, necklaces, earrings the list is endless…
(click to view extensive range of rings).
This computerised system allows me to design completely bespoke jewellery in our own CAD Studio in Oakham, which really helps you (my valued customers) visualise your finished article before it is manufactured in our workshop.  It also alleviates any anxiety that you may have about not being able to visualise the finished article as you will be able to view a life-like representation of it beforehand.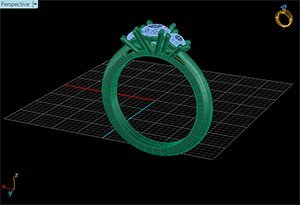 An initial drawing of the piece created in CAD.
CAD allows me to work with you all the way through the creative process. You may possess certain items of jewellery which you do not wear and I can reset the gemstones from these existing pieces into a new setting, thus maintaining the value of your original jewellery, whilst adding more value by creating a new piece which you will wear and love.
Alternatively you can choose a design from my collection of Unique & Fine Gemstones, or I can source the Gemstones and Diamonds which you require, and then we will design a piece of jewellery tailored specifically for you.  The bespoke nature of the process means that the stones will fit perfectly within the piece, and will not be restricted to factory mass produced mounts.
You may approach me with an image of a piece, choose an item from our showcase portfolio, or even select something from the shop which you would like created in a slightly different way.
CAD also allows me to show you the different options such as different settings and stones; the design possibilities are endless and may be tailored to suit your budget.  You will be able to view my jewellery design in a 3 dimensional "rendered image" which is much like a photograph of the final piece, allowing any alterations to be made at this stage.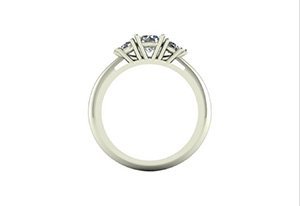 A final render of the piece before it is created.
As you may appreciate although the rendered image is extremely lifelike it is less refined than the final polished piece, as it is a little like an architect's drawing which requires a craftsman's skills to bring it to life and finish it to perfection.
Once you are fully satisfied with my design the chosen render is ready to be created in reality via a 3D printer before being manufactured using precious metals.  All of my bespoke jewellery is hallmarked with my HK mark at the Assay office before the gemstones are set, and the whole piece lovingly polished and finished ready for you to wear and enjoy.
In addition each bespoke piece will be accompanied by a portfolio for your insurers with digital photographs and full descriptions in case of loss or damage, as well as a Lifetime Cleaning & Checking service, all included free of charge within our bespoke service.
Call me on 01572 722666 or pop in to our Mill Street, Oakham shop to discuss your bespoke project.
Personalised jewellery
Your Style
Recent Blogs
Can pearl Necklaces get wet? Ideally not. Pearls are porous and are made up of concentric layers of Nacre and Conchiolin, an organic compound similar to...