Breathtaking Beauty fit for a Bishop
Breathtaking Beauty fit for a Bishop
By Heidi Kjeldsen - 14th March 2016
Every piece of jewellery I have the pleasure of making offers me the chance to create something beautiful and more often than not unique but every now and again I get the chance to work on a project which is truly inspiring.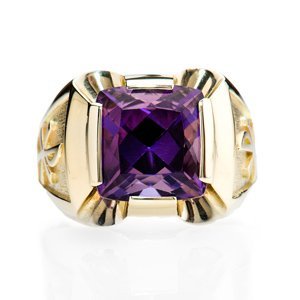 A few years ago I was invited to design and create a special gold ring for the then new Bishop of Bedford – the Venerable Richard Atkinson – who was consecrated in St. Pauls Cathedral, London on May 17th 2012. (Rings of the Lord)
A few years on and I have once again been commissioned to create a special ring for the new Bishop of Dunwich.
Canon Mike was consecrated as Bishop in the St Edmundsbury and Ipswich Diocese in a ceremony at Westminster Abbey on the 24th February. Mike was Director of Mission and Ministry in the Diocese of Leicester in his former role, a post he had held there for the 10 years and is now Bishop Mike, the Bishop of Dunwich. Read more in the Suffolk Free Press
The ring created for Bishop Mike took many weeks to create from the initial concept between Mike and me, to a drawing produced in CAD (Computer Aided Design) form and then 3D printed in wax before being eventually cast in Gold.
Lovingly hand finished and carved, then hallmarked by the Birmingham Assay Office,  before being especially engraved, polished and finally setting the stone.
The finished ring was photographed professionally, before being presented to Mike in a unique handmade Walnut box made by Peter Lloyd (Peter Lloyd Fine Hardwood Boxes).  Peter and I discussed measurements and the design at length using Skype so I could view his ideas and he mine.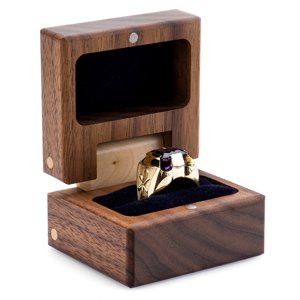 Once again this Bishop's ring depicts the holy symbol known as the Chi-Rho, the oldest known monogram for Christ, carved onto its shoulders.  The Chi-Rho encompass' a very fine, regal looking antique cut square Uruguayan Amethyst weighing a rather large 8.43cts, and whose richness of colour and clarity is second to no other.  Amethysts were once only available to Royalty, and still appear in many Crown Jewels around the world today so it is a fitting stone to adorn this historic piece of jewellery. Also, it is an emblematic symbol for the devotion of a Bishop to his Diocese.  Amethyst is also the birthstone of February and the gemstone which represents the 6th anniversary of marriage.
Inside the shoulder, in a discreet place, sits a special Bible verse, engraved by laser using the very latest technology.  This tiny personal message will keep Bishop Mike sustained, when at times he will, I am sure, feel the burden of his role.
The ring which has been commissioned is a piece of real craftsmanship and has had many people involved, in what often seemed an honoured and special journey, each person bringing their skill and care to the table.
Do call into our Mill Street, Oakham showroom to view my collection of fine jewellery or to perhaps have your own unique piece of jewellery made.